Post by samanthawright on Mar 12, 2011 10:43:36 GMT -5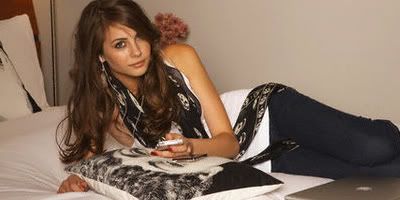 samanthakatrinawright
fourteen. freshman. loud.silly.friendly.willa holland.
Sammie was born in Nashville, Tennessee. She had a loving mother and father, and an older sister named Shannon. Her father, a country music singer, made enough money to pay for their not-so-modest lifestyle fifteen times over. Add to that her mother's job as CEO of Big Machine Records, and Sammie's life was pretty amazing. Sammie and Shannon were best friends and Sammie, being the friendly person she was, had many friends outside of her older sister. Neither girl saw their parents much, given that both were heavily wrapped up in their work schedules, but they didn't mind. They had a fabulous lifestyle.

When Sammie turned eight, her sister went off to college, and things started to shake. She would often wake up in the middle of the night to the sound of her parents screaming and throwing things. When she woke up the next morning, a vase or sometimes even one of their big-screen plasma televisions, would be in shards in the garbage can, and both her parents would be gone with orders that she was supposed to ask the chef for something healthy for breakfast rather than waffles for the millionth time. Sammie would just order blueberry waffles.

By the time Sammie was nine, the fighting was so bad that she couldn't invite her friends over for sleepovers for fear that her parents would scare her friends. She could barely handle it. She cried almost every night. She never understood why her parents couldn't get along like every other parent in the universe.

Sammie's grades started to suffer. She enrolled in a massive amount of after-school activities. She couldn't stand to be home listening to her parents fight. It just wasn't worth getting the good grades. She couldn't do it. It was just too hard on her.

The one person that had Sammie's back through all of the fighting and heartache was Shannon. The two sisters would talk every night and Sammie would visit Shannon on her college campus often. Shannon would comfort Sammie and every time they talked Sammie felt a little better. It was like a huge weight had been lifted off her. Shannon was Sammie's confidant and best friend.

At twelve, Sammie experienced the biggest shock of her life. Shannon came home for summer break - with her fiance. He was gorgeous, and Sammie was happy for Shannon, but she knew she was losing her best friend to some guy. Sammie was a junior bridesmaid at Shannon's wedding, having not been old enough to be the Maid of Honor.

When Sammie turned fourteen, her parents finally got the divorce. On June 8th they signed the divorce papers and Sammie had to pack it up and move to Casper, California with her mother. Here, she was going to start a new life - her life in high school. She was excited, but sad at the same time. She was moving two thousand miles from her father and sister. It was going to be really, really hard on her.

But Sammie's mother tried to make it as bearable as possible. Sammie had her own floor in the new mansion they were living in and she got what she had wanted since she was about three years old but couldn't have because her dad was allergic - a German Shepherd puppy named Kobi and a Siberian Husky puppy named Kulo. Even though she knew her mother was trying to buy her affection, she was happy.

behind the mask
[/center]
alias kat
age sixteen
experience three years
how'd you find us? proboards support