Post by cadence on May 5, 2011 15:59:23 GMT -5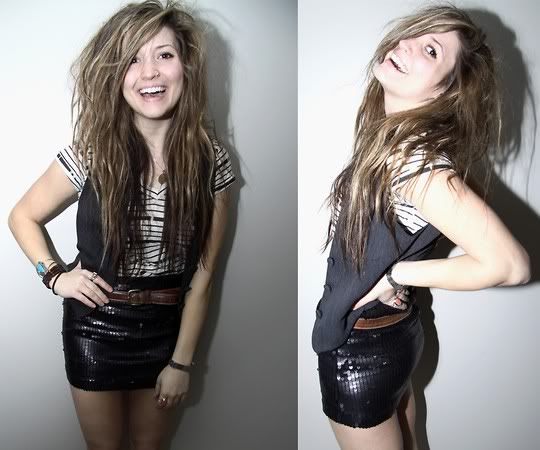 cadencemarieluck
sixteen. sophomore. friendly. hyper. jealous. bethany olsen.


Cadence is a super friendly person. She loves making friends. Some people find it annoying how happy-go-lucky she is. She attaches to people and won't leave them alone. Half the time she can't even tell that she is getting on people's nerves. She just bounces around them like a rabbit. When she gets hyper she talks extremely fast, almost incoherently. She has an overall bubbly personality. She doesn't really care if other people don't like her. She has a sharp witty tongue and absolutely loves being sarcastic. She's rarely ever actually serious. She's loud, proud, and obnoxious. She has a.d.d. and ocd. So she's a complete neat freak. Her room is completely spotless and when she goes over to other people's houses she'll clean them if they are dirty. When it comes to her friends she is very protective, caring, and loving. She hates seeing people upset so she often acts extremely goofy to cheer them up. She has a bit of a temper, runs in the family. She can only take so much before she snaps and tries to kick someone's ass. She may be tiny but she can hold her own. She's grown up with three rough older brothers. She's very blunt and doesn't like people who talk behind their "friends" back. If she doesn't like you she will let you know. But if she doesn't know you then she will probably try to be your friend. She loves to get out and party. She doesn't drink much (that will change). Amazingly enough she's still a virgin. She's just looking for the right boy. She's a romantic and wants everything to be perfect her first time. She's a real flirt though, she absolutely adores boys. But it seems like she is always attracted to the bad boys. She's kind of jealous and obsessive when it comes to the boy she likes / is dating. Especially with her older brother Cayne/Talon/Asher. She worships the ground that boy walks on. She's always had a crush on him. They aren't blood related either, so don't get all grossed out.

Cadi was adopted when she was eight months old. The baby of the family. They had always wanted a girl. They had two biological twin boys, Logan && Vince. Later when Cadi was five they adopted Cayne, he was older than Cadi by a couple of years. The parents loved all the kids just the same, but since Cadi was the baby they obviously babied her more. The twins were jealous, they were older than Cayne and knew that Cadi and Cayne weren't their real brother and sister. So they often picked on the adopted kids. The were very mean, to Cadi. Always playing rough with her and hitting her growing up. Caye didn't like it and often stood up for Cadi always trumping both of the twins. Cadi admired him with every ounce of her being. He was her knight in shining armor. When Cadi was about fourteen the twins pushed her down the stairs and broke her arm. They told her to be quiet or else so she told her parents that she had simply fallen. She told Cayne the truth though and he got really mad. He kicked their asses and told them to leave her alone. Their father got really mad, he didn't understand why Cayne was so violent and ended up kicking him out of the house. Soon after that he went to jail. He was kicked out of the house when he was 16.Cadi was left alone with her horrible older brothers. She is still in contact with Cayne and usually gets him stuff when she needs it. Though he normally doesn't like to tell her where he is or what he's doing.
behind the mask
[/center]
alias OHcallie/sierra
age eighteen
experience five plus years, not gonna lie and say i've ben rping since i was ten.
how'd you find us? just looking around.