Post by zander james ryan on Jun 4, 2011 23:42:38 GMT -5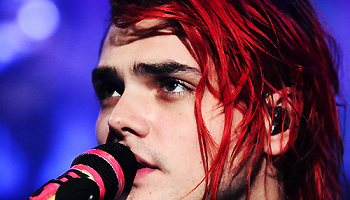 It was relaxing, the sound of a pencil scratching against a piece of paper, especially if it was sketching paper. Zander Ryan, the new kid in town, sat in his room, drawing a page of his comic book, Crimson Regret. It was a long-running comic book about vampires. Well, it was long running in his bedroom. He never did anything to promote them. He just liked to draw them. His mom always got on him about not using that talent to make him some money. But, the truth was, he was content with his job at Starbucks. It didn't take too much to make him a happy boy. Zander sighed and threw his pencil down on the bed, followed by his sketchbook. It seemed like lately, he couldn't draw anything worth crap. It was like all his muse for art was gone. But, having just recently moved to California from New York, he was drained, and that was probably why. At least, that was the only explanation Zander could come up with.

Today was Saturday, and Zander had to work. Most people would probably gripe and complain about having to work on the weekend, but Zander really didn't mind. He didn't ever do anything on the weekend anyway. The only time he did anything in California was last weekend, when he went to some party that a kid at school invited him to. That's where he met his only friend to date, Jonathan. They didn't know each other inside and out, but they were starting to get to know each other better, and were quickly becoming very close friends. At that party, they started talking and realized they had a lot in common. There was a one year age difference, but neither of them noticed. At least, Zander didn't. He wasn't clear on Jonathan's feelings. Zander found out that Jonathan had a problem with society, just as Zander did; their ignorance and vanity fueled anger and despair. There were many things that set him off, and it seemed like Jonathan completely understood. It was nice to meet someone he had something in common with so quickly after having moved to California.

Zander put his hands through his vibrant, cherry-red hair. It was an odd color, compared to the normal colors of the rest of the school and most of the world, but he didn't care. He loved it. That's another way Jon was like him--the color in his hair. The boys didn't have the same color, but they did have unnatural colors. Zander quickly got up and put a pair of faded jeans on, followed by a black shirt that said "get bent". Zander quickly ran outside and started his car, driving speedily to Starbucks Cafe, the place where he worked. He didn't expect to see anyone interesting, or for anything riveting to happen, but it was better than being alone in his room. The red-haired boy walked in and put his Starbucks apron on, starting to make the coffee, playing barista and waiter today.
[/size]