Post by landon on May 8, 2011 19:39:48 GMT -5
I N T R O D U C I N G . . .landonM I L E Scarter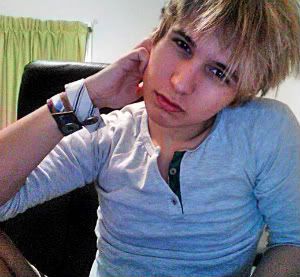 Landon is a cocky, self-centered, jerk. He is a sex addict and thinks he can generally get anything or anyone he wants. Landon may be all of these things, but hes also self-conscious and constantly trying to win his parents approval. He doesn't seem to care about anything or anyone else but them. At least theres never been anyone in his life that has gotten him to want to please anyone else. Landon does have a sweet side though its not your typical romantic sweetness. His sweetness is a little brasher because he might think its absolutely sweet but others might not think so. You just kind of have to take what you can get from him because he rarely tries when it comes to people. He likes to think things just fall in his lap. He's a fun guy to hang around with and can be a complete dork, but he has no boundaries. He relies on his parents money to bail him out of anything which pretty much happens. He is a jack of all trades so hes got a lot of secret talents that he only lets out randomly.


F R I E N D S

Landon doesn't really believe that true friendship exists. He has friends, but he's pretty sure if it comes down to it his friends will do what they can to save their own ass all of which he does not blame them for. He would probably do the same, though hes never had to deal with that since his parents money gets him out of most all things. He's a partier and likes to have fun so probably lots of hang out friends and such.


H A T E R S

Im pretty sure he'll have a lot of enemies but at the same time its hard not to like him. Hes just got that personality that people think, god what an ass, but are probably also like, Id like to hang with that guy. Landon doesn't give a shit if you like him or not. If he doesn't think you're worth his time he wont spend time with you, but mostly his time with someone is either having sex or partying. Feel free to hate the guy though.


L O V E R S

Landon doesn't do commitment. He goes from person to person. Hes bisexual so anything hes attracted to is a go. If he doesn't find you attractive he will tell you. He's probably slept with a lot of people so if you want to fall under that category be my guest. XD Sometimes he does doubles and sometimes not. The dude just likes sex so really whatever works.


E V E R Y T H I N G I N B E T W E E N

If theres anything else that you'd like that you have an idea for, I am more then willing to listen and work with you. Just post it and we'll see what we can do .