Post by gavin on May 3, 2011 21:41:47 GMT -5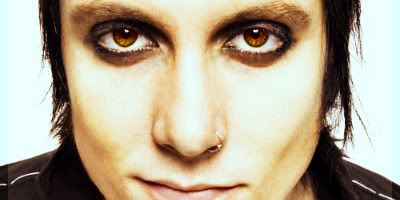 gabrielxaviersteele
twenty four, high school graduate.
Lost, sweet, tattoo artist, ex guitar player, Synyster Gates [Brian Haner Jr].
Well, my answer now would be a lot different if you asked me about eight months ago. But, I used to be obsessed with music and tattoos. I played guitar with my group of friends, and we were fucking inseparable. The five of us were fucking hell raisers and we loved on it. Thrived on causing shit for other people, we even put out a few CD's and it was just, well.. Fantastic. I thought we would take over the world.

I drank far to much, and cussed worse then a fucking sailor, that hasn't changed. If anything it got worse, including my drinking habit. But, I've been told I have calmed down a lot, and not in a good way. Just, I guess the easiest way to say this is I just, mellowed out, over the past several months. Music is no longer a part of my life. I don't write songs anymore, or play anything. I wont have any part of it.

I have also been told, I have grown a bit cold, and uncaring. I don't think it's changed much, but you know… Fuck off. Is all I really have to say about that. I'm a social mother fucking butterfly? You don't buy it? That's why it's called sarcasm you cunt bag. No, I don't go out to parties, I cant fucking stand any of it anymore. I just need time to think, and to get my life back on track again. Losing Jackson killed me. I know I wasn't a blood brother, or anything, but… Jackson, was family to me. Anything I do, reminds me of him.

I try to talk to new people, and I'm learning how to put on a mask. I'm perfecting my front and just learning how to fake it through life. I know the pain will get better, and I know it will get easier, but Its just going to take me a bit. I can lie good. I know I'm not okay, but I hide it. I can fix other peoples problems, I'm damn good at that. I always have been,. But I can't fix my own, but I led the boys on to let me go, and move here to Cali to get away from everything.. They wouldn't have let me go if they knew how fucked up I was.

As for how I got here I guess I will start from the very beginning. My mother and father were never really in love, or… Well anything at all with each other. I was the result of some drunk casual sex, which quickly turned my father against my mother since he never wanted kids.. At all. They fought all the fucking time. But my father got used to the idea, and I guess could say grew to love me.

They tried to do better on there fighting over the years as I slowly started growing up, nothing really changed, but I did. I started going out, and that's where I met my best friend. Jackson. He was a amazing guy, and he got me hooked on gut airing at a early age. I started practicing till my fingers would go raw, it was a perfect way to vent anger I had. My parents fighting got worse and worse, and my gut airing got better and better. My fingers could dance over the neck effortlessly. Jackson started being my brother, a guy I could tell anything to, and he would give me his all to help me. More than one occasion I found myself crashing on his couch to get away from the fighting.

Well, he had the bright Idea to introduce me to his other friends, and thinking we could start up a band. I was sixteen then. Well, we spent months and months coming up with a name, song titles, a logo… And of course our fucking stage names we would use when we made it big. Well, our dreams started off slow. But, we finally got a shitty record deal, and shitty places to perform all around NY. There were many nights of crammed sleeping on the tour van, and months and months of barely eating, and when you got the chance it was always dollar menu. The tour van, yes tour van… We were fucking poor beyond words, and we had a damn tour van. It was this big, white god awful fucking thing and there were two bucket seats up front and all the rest of the seats were taken out to make room for a fucking mattress that the rest of us would struggle to sleep.

We grew so close during that time, and there is nothing I would change about it. But we started getting good gigs, put out a cd, and just started kicking ass and taking names, for a long time. Me and Jackson had this flow together. He would write these impossible rifts for me, and expect me to do them… Some how I managed, (he strived to make me a better guitarist, all of his life) and we even got to write our songs. All of us would calibrate together. We were doing amazing, and everything was just going perfect.. Like everything was just perfectly on track.

Jackson and I got a apartment together in NY, and we set up everything some how finding room for my guitars, and his drums, keyboards and everything else. We didn't have a living room, we had a music room that some how a TV managed fit into. Our music would be scattered everywhere across it when we were trying to write a song, or a rift together. It was utter madness, but it was home.

Years went by like that, and it was just fucking perfect. Then… I got a call on my cell as I was out with my girlfriend at the time, Nathan one of the boys from the band had come over to get Nathan for practice, and he couldn't wake him, had called the ambulance, and they announced him dead. My life pretty much stopped at that moment. The funeral is a blur, and I just remember being there for everyone. I don't remember me actually crying.

I went home that night, and threw out all of my guitars out the window I just had to get them out of there. Anything that had anything to do with him that was mine. Music, guitars, the violin he was trying to teach me.… I left everything of his though.. I wouldn't touch it. I staid in my room, and pretty much only surfaced when I was called out by one of the guys. My girlfriend dumped me, because she couldn't handle me being so distant, and eventually I just couldn't handle being in the apartment anymore, and I packed up everything. Taking a pair of Jackson's drumsticks with me. I needed something, just to keep with me… It ended up being hung up in the shop and, just my little memory keepscape



behind the mask
[/center]
aliasMia
ageNineteen
experienceEight Years
how'd you find us? Laykin..